Keyboard Minion Emoji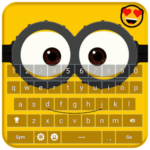 Keyboard Minion Emoji
All the boring feeling with your keyboard will disappear with the new customized keyboard for android phones: Minion Emoji Keyboard 2k17.It is now available FREE!
Get minion keyboard emoji and give to your phone keyboard and the text input a pretty keyboard theme for all banana fans. This wallpaper minion keyboard gives your keyboard a pretty look. With its easy, smart and fast typing and the emoji key, this sticker keyboard will change your vision to your GALAXY phone.
Minion Keyboard Features:
– Free to download Minion Emoji Keyboard.
– Pretty and beautifull anime keyboard.
– Amazing background themes "Over 10 minion wallpaper themes".
– Easy and smart to type on Message, SMS, ssj, sms textnow messaging, Text Now, Email, Note…
– It can be used in whatever app that requires keyboard input including messenger, whatsapp messenger,Line,kik…
– Easy to tap and send messages with various text emoticon.
– More than 1000 emoji like instagram emoji and whatsapp emoji, emoticons, moji and smiley faces in your facemoji keyboard, glitter font .
– More than 100 sticker like Instagram stickers, and fancy fonts, which gives your sticker keyboard, wallpaper themes and texts an amazing look.
– Languages supported (English, French, Spanish, German, Arabic, Italian, Japanese, Portuguese, Russian, Thai, Korean, Chinese…) more languages will be added soon.
– Simple, fast and clean interface that makes it pretty, sparkly and easy to use.
Installation instructions:
1. Open Minion Keyboard Emoji App.
2. Click on "Enable Keyboard" switch your current keyboard to Minion Emoji Keyboard, Minion Keyboard Theme.
3. Click "Set Input Method" to select your Minion Keyboard as your default input method.
4. Click "Set Themes" and choose your favorite minion theme from the available themes on the list.
5. If you do not want to use minions keyboard, click "Choose from Gallery" to import your photo from the gallery and make it as the default background of your keyboard themes.
6. Congratulations! You have installed and activated Minion Keyboard Emoji.
DISCLAIMER
– Minion keyboard theme can be used on whatsapp, facebook messenger or any other app that requires keyboard input but it doesn't have any relation with those apps.
– Minion Keyboard Theme is just decorating your pony keyboard to make it more pretty.
Say hello to minion emoji keyboard, our new app!
Minion Keyboard with emoji is now available for free!
The boring feeling with your previous keyboard will disappear!
(Visited 367 times, 1 visits today)
---